According to statistics published by the Health and Safety Executive (Labour Force Survey), work place stress, anxiety or depression accounted for 15.4 million days absence from work in 2017/18. This figure equates to 44% of all work related ill health and 57% of working days lost in the same period.
Such stark figures should act as an important call for action across communities and employment sectors alike. Improved work place wellbeing will pay significant dividends in both attendance and productivity, prioritising workforce morale and staff welfare is a prudent investment for these reasons but it is also adds integrity to the company profile.
Mental Health First Aid is achieving international recognition as a leading mental health training course that seeks to achieve parity of esteem with physical first aid. An initiative recently debated in the House of Commons, Mental Health First Aid is gathering momentum as a worthy contestant for training in work place wellbeing. Originating in Australia Mental Health First Aid is benefitting businesses far and wide as responsible and proactive employers seek to understand and improve awareness of mental health issues within the work place and beyond.
Locally employers taking mental health issues seriously include A Cones and Arborforce in Black Bourton and The Cotswold Wildlife Park and Gardens in Burford. The response to Mental Health First Aid courses run by Continuum Mental Health in West Oxfordshire has been hugely encouraging with employers welcoming the training initiative and recognising the importance of improving mental health literacy across departments.
In the construction industry concern around mental health has never been more relevant, male construction workers present the greatest risk of suicide by occupation, while suicide represents the most common cause of death in men under the age of 50 nationally.
Common statistics site 1 in 4 people will experience a mental health issue in any given year and 1 in 6 people will report common mental health problems each week. For obvious reasons the number of unreported mental health difficulties remains elusive, partially accounted for by the significant stigma associated with disclosing such issues a shift in cultural attitudes is urgently needed to redress this situation. Considerable efforts to do just this have been made over recent years such as the 'Time to Change' initiative which spearheaded a major campaign to normalise mental health difficulties to great effect.
There is still much more work to be done to promote a positive and helpful dialogue around mental health issues. It is encouraging to see businesses large and small across the United Kingdom embracing Mental Health First Aid as a positive step in the right direction.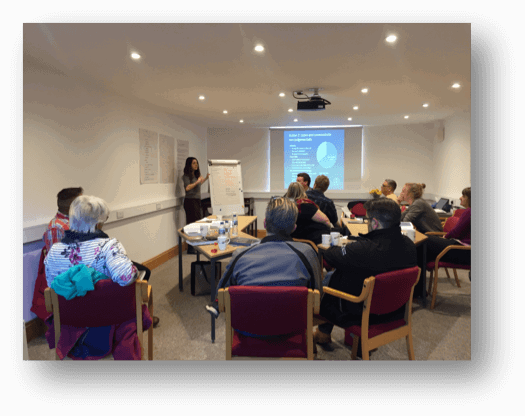 Mental Health First Aid England has created a variety of accredited courses designed to equip participants with knowledge and confidence around the subject of mental health. Ranging from two-day courses that will qualify delegates as Mental Health First Aiders to half-day courses designed to raise awareness and challenge societal attitudes that prevent people from seeking appropriate support.
Continuum Mental Health is focussing its efforts on training for local people and businesses in West Oxfordshire and the Cotswolds; a recent two-day course delegate remarked,
"Mental health is so different, yet effects us all and the correct way of handling this yourself or as a manager, friend etc. has such a massive impact....
It's real, it's out there and so many work places need to embrace this, get involved and send staff on this for training."
Mental Health First Aid aims to teach people to identify early warning signs of possible mental ill-health, concentrating on how to respond in a helpful and positive manner, to understand where to look for appropriate professional support and how to improve workplace wellbeing and cultures.
Continuum would like to congratulate local delegates once more on successfully completing courses to become valued Mental Health First Aiders in our community.